Commonly regarded as the most important manufacturing process, cutting and/or marking is where the product gets its desired dimensions. ASCO cutting and marking equipment ensures these processes are achieved at any level of quality and automation desired by the customer.
Depending on the type of fabric and application it is used for, ASCO has several standard cutting techniques available:
Rotating knife; a low-cost cutting solution suitable for most materials
Ultrasonic cutting; for a sealed edge without fraying
Crush cutting system; primarily for cutting glass-fiber based materials, but widely applicable
In addition, ASCO can integrate other, less standard cutting solutions, such as heated knife cutting, razor blade cutting, laser cutting and scissor cutting. At ASCO we also testing facilities to do cutting tests and give you the best advice on how to cut your materials.
What the Cutting Tables of asco offer
The range of ASCO cutting solutions spans from single handheld cutters to fully automated CNC cutting tables – and everything in between. Therefore, ASCO can always offer a suting solution for your specific production needs.
To guarantee a perfect cut for your fabrics, ASCO can adivse in detail what would suit your needs the best. Our portfolio has standard tables which can be configured to your needs. If that is not enough for you, we can fully customize to meet your demands.
The portfolio of ASCO's cutting tables:
ranges from manual to fully automatic
several types of cutting systems available (rotary, crush, ultrasonic, laser)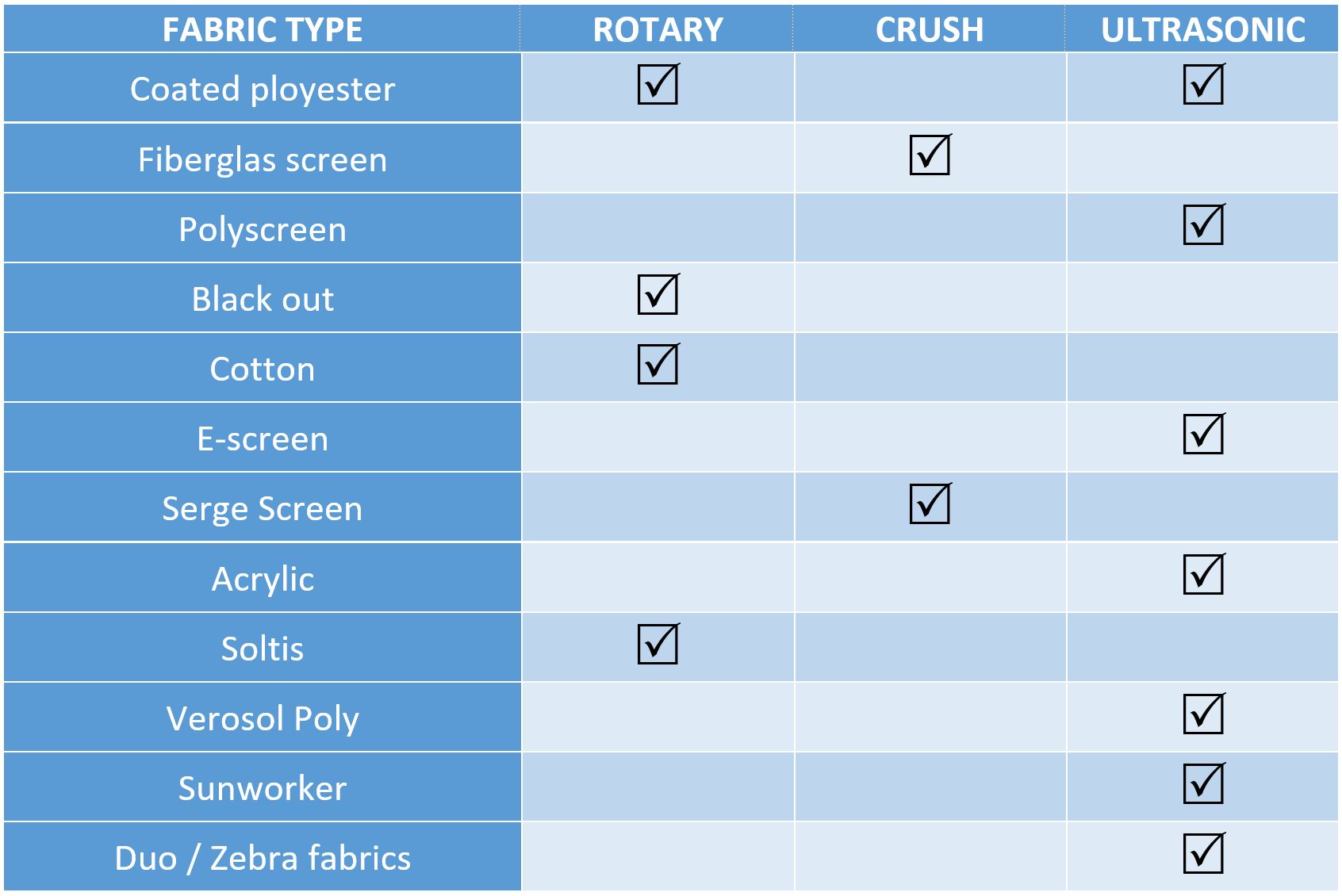 Cutting methods & Systems
Different types of fabrics require different types of cutting systems to achieve a straight cutting line and perfect sealed edge. Although there are thousands of different fabrics, ASCO can advise what cutting method will work best with your fabric(s). In case we do not have experience with your fabrics, we are more than happy to do sample cuts on your fabrics prior to advising which method is suitable. On the left, a smal overview of the most common fabrics and their cutting methods.
Depending on the type of cutting table, we can equip our cutting solutions with multiple cutting systems for the greatest versatility for your production. Even automatic knife selection is possible!
CUTTING ACCESSORIES
These accessoires can be used for upgrade of expanding current cutting tables; or used as stand-alone tools.
MANUAL CUTTING TABLES
For single and low batch production.
SEMI-AUTOMATIC CUTTING TABLES
For medium batch production, combination of manual and automatic operation.
(HIGH END) AUTOMATIC CUTTING TABLES
For medium to full batch production; partially or fully automated operation.